American Hawaii Cruise Vacation
Day 8 - American Hawaii Cruise - Thursday at Hilo, Hawaii
Polynesian Night
Was on the deck to witness the sun rise and watched as we docked at Hilo, Hawaii about 8 a.m. Hawaii "The Big Island" is the largest and youngest of all the Hawaiian Islands and is famous for its sugar cane plantations and Kona coffee.

Chosen Tour: Akoka Falls and Nani Mau Gardens
Left the Hilo port and drove down Banyon Drive on the way to Akaka Falls. The walk to and from the falls, which drop 442 ft into Kolekole Stream, was breathtaking and you felt very small next to the giant plants. We reboarded the motorcoach to Nani Mau Gardens where hundreds of tropical flowers color the landscape, including the Orchid Pavilion with its unique landscape of water lilies, ginger, anthuriums, heliconia and bromeliads.

Back aboard ship I made a fresh flower lei while Ed was poolside, then we went to the port talk on Kona, saw a special show featuring the keikis (kids) of Hilo, enjoyed the performances of Gregg Gabaylo and Curtis Kam, Hawaii's finest all-around illusionist and hottest juggler. Also had hula rehearsal, viewed the lava flowing from Kilauea volcano from the Kama'aina Deck Starboard Lanai (as it was raining), went to the Kilauea Volcano buffet, and even got to the Pajama party which started at 11:15 p.m.

Didn't get to exercise classes, the Kumu's talk on the "T" leaf lei, the performance by the elders of Hilo, games, crafts, tea time, dancing to the Orchestra, Broadway on the Pacific show featuring music from the latest hits, or the Madame Pele talk story.

Being Polynesian Night, Ed wore his Aloha shirt and I my mumu (in matching print) and had our pictures taken before going on to dinner.

We sailed for Kona, also on the Big Island of Hawaii, about 6 p.m.

A few pictures from Day 8 ...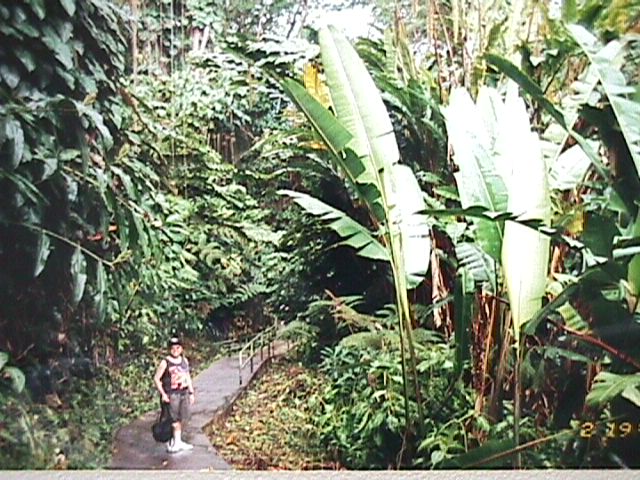 The path leading to Akoka Falls ... one feels so small by comparison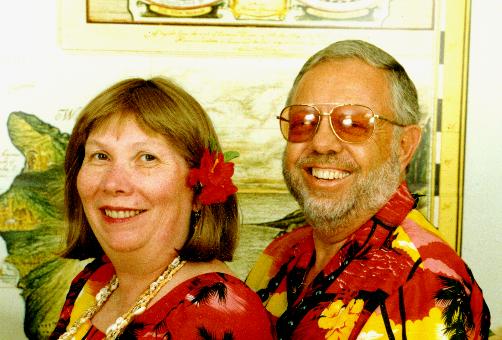 Being the typical tourist, we bought matching Aloha wear

Return to my Hawaii Cruise/Vacation Index

More the Big Island:


American Hawaii Cruise Vacation
is created, edited & maintained by
Linda-Jeanne Dolby © 1998
This page may be freely linked to, but not copied without my consent.