American Hawaii Cruise Vacation
Day 7 - American Hawaii Cruise - Wednesday on Maui
50's & 60's Night
Chosen Tour: Early Whale Watch Princess
Traveled by van back to Lahaina where we boarded the Lahaina Princess which sailed out of the cove to transfer us to the bigger Maui Princess. This was the height of the humpback whale migration from Alaska for mating and birthing (though no one has ever seen either) which occurs from November through April. We were indeed lucky, because at one point we were surrounded by whales and witnessed a blow, breach, fluke and spy-hopping. Because the whales are protected, crafts are not allowed to go closer than 100 yards, however, if you are stopped and the whale choses to come closer to you, that's ok and at one point one did!

American Hawaii Cruise Line is very safety conscience, and practice numerous emergency drills, one of which is pictured below. We watched in fascination as they lowered 3 life boats and 6 rafts. Had no idea rafts now have tops to keep out the sun, rain, etc. Once the rafts are in the water, they are attached to each other to help in their survival and to help search planes locate them.

Some of our activities today included for me making a fresh "T" leaf lei, then putt-putt golf around the Hoi Hoi Showplace where both Ed and I won prizes, hula rehearsal, Hilo port talk, Ed played Bingo and I went to an afternoon concert on the Golden Days of Operetta, saw the show Let the Good Times Roll, and later that night went down to the theatre to see a movie.

Other choices that day were the usual exercise classes, games, ukulele lessons, tea time, Hawaiian implement class, Lip Sync rehearsal, Hawaiian crafts - featherworks, talent show rehearsal, TV trivia, Twist & Shout - dancing to the 50's, Broadway on the Pacific show featuring 1998 Broadway, Great American Lip Sync show, 50's shock hop, late night dancing starting at midnight and a variety of Hawaiian music at various times/places.

We set sail for the Big Island of Hawaii about 5 p.m.

A few pictures from Day 7 ...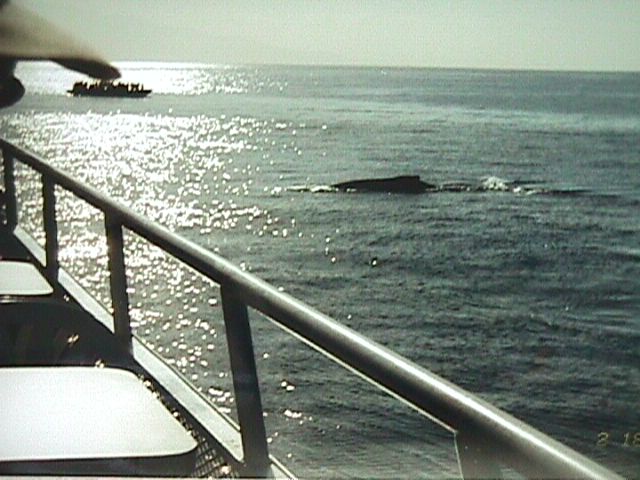 The whales were so close to us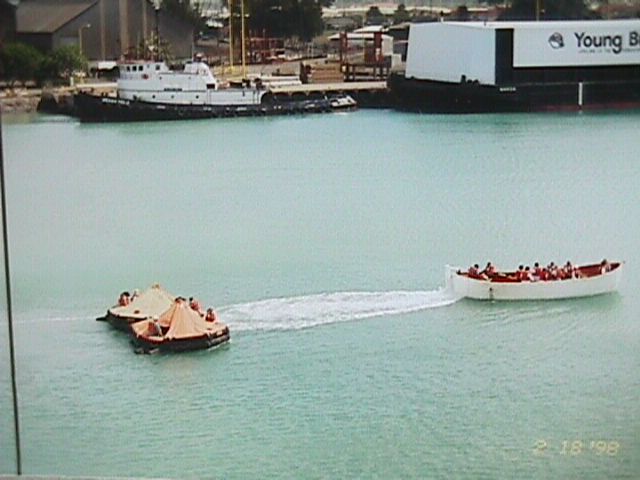 The S.S.Independance crew practicing part of an abandon ship drill

Return to my Hawaii Cruise/Vacation Index

More about Maui:
Virtual field trips to the island of Maui
Map of Maui

American Hawaii Cruise Vacation
is created, edited & maintained by
Linda-Jeanne Dolby © 1998
This page may be freely linked to, but not copied without my consent.