American Hawaii Cruise Vacation
Day 4 - American Hawaii Cruise - Sunday at Sea
A Night Out On The Town
Chose the Ohana Buffet this morning and took our food out on the Ohana Deck so that we could listen to the Kumu's talk on Kauai. A kumu (KOO-moo) is a Hawaiian historian/teacher/storyteller. Other things we chose to do today were Hawaiian Crafts (featherworks) with Julianna (Cruise Hostess), Tracy Jones of the Pacific Whale Foundation was on board several days to give us information on the humpback whales and we went to her slide show, tour briefing for the rest of the islands, port talk by Lanikai (Ass't Cruise Director) on Kauai, had our first hula lesson from Julianna ... Little Grass Shack, stopped by for a marine life presentation by Tracy, played bingo, I joined Lanikai's scavenger hunt and watched a fashion show, we looked for whales from the deck, went to two shows: the Sounds of Aloha and Na Hula O Kaohikukapulani.

Other activities one could have participated in were: energy-building and stretch and breathing class, walk-a-mile, tour briefing, fitness orientation, Hawaiian Interdenominational Church Service, culinary demonstration, Hawaiiana "Talk Story", Hawaiian Crafts - fabric flowers, Hawaiian music, discovery table (whales), line dancing, Hawaiian Crafts - shell jewelry, Hawaiian implements, ice carving, Kumu's talk on the isle of Ni'ihau, ukulele lessons, lip sync' sign up, old-fashioned sing along, dancing, Broadway on the Pacific show saluting music of Rodgers and Hammerstein, Karaoke time.

We had chosen 2nd seating, table for 8 at 8:15 and were assigned the Orchid Dining Room, so tonight we met our dining mates; Pat & Randi from Wyoming, Michael from Michigan, Desiree from France and everywhere, and Irma and Greg from Pennsylvania. Know everyone has heard about the food on a cruise and it's true. If you're hungry, it's a good bet you can find something to eat; ie:
Breakfast:

5:30-6 a.m. Continental on the Ohana Deck/Pool side
6-9:30 a.m. Buffet at the Ohana Buffet
7:30-9:30 a.m. Open Seating at the Hibiscus Dining Room (menus)

Lunch:

11:30-1:30 p.m. Buffet at Ohana Buffet
12-1:30 p.m. Open Seating at the Hibiscus Dining Room (menus)
2:30-4 p.m. Hot dogs/hamburgers grilled on the deck or Ohana Buffet

Dinner:

5:45 & 6 p.m. 1st seating at assigned dining room
8 & 8:15 p.m. 2nd seating at assigned dining room

Moonlight Snack: 10:30-12 midnight - sandwiches, soups, salads, desserts, etc at Ohana Buffet
and, of course, there's always room service!
I found 2nd seating to be great for us. We sailed into Nawiliwili, Kauai about 5 p.m. ... sunset was at 6:35 p.m.
A picture from Day 5 ...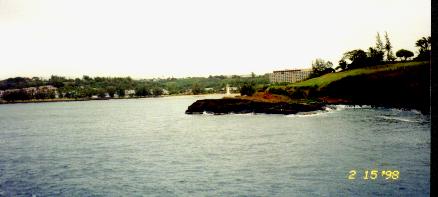 Sailing in to Kauai

Return to my Hawaii Cruise/Vacation Index


American Hawaii Cruise Vacation
is created, edited & maintained by
Linda-Jeanne Dolby © 1998
This page may be freely linked to, but not copied without my consent.