American Hawaii Cruise Vacation
Day 1 - Thursday in Honolulu, Oahu
We boarded our plane in Texas at 9 a.m. central time and arrived in Honolulu about 1:30 p.m. Hawaii time ... Hawaii is 4 hours behind central time zone.

Setting down on the landing strip for us was all goosebumps - we had planned and waited so very long for this trip and we were actually here. Off the plane the first thing we noticed about the terminal was the open-ness of the walkways (no windows) and the beautiful Japanese gardens. On the negative side, there is a definite lack of signs directing you to ground transportation and we had to ask twice. Cheapest ground transportation into Waikiki is by van/motor coach who will take you there for $7 to $8 per person or you can purchase round trip tickets at a discount. Please note, however, that if you are going on the cruise, this round trip is from Waikiki, not Aloha Tower. More on transport from Aloha Tower to the airport on the last day of our vacation.

We stayed at the Outrigger - Edgewater, which is one of their older hotels, but only a block from the beach and right in the heart of things. It was an easy walk to everywhere and prices at the Edgewater were less than the other Outrigger hotels. To get to the beach, just walk out of main entrance, turn left, cross street, and either go through the Outrigger Reef lobby or walkway on side of that hotel and there it is. Our favorite place to eat was the Shore Bird Beach Broiler located in the Outrigger Reef. The restaurant is right on ocean with open windows; breakfast is buffet (pick up discount book from hotel for coupons). Dinner was a surprise ... we ordered our meal, steak for Ed and Mai-Mai for me, went to salad bar, and came back to find our raw beef and fish in a basket. We just sorta looked at each other, when the waiter came by to give instructions on cooking ... seems you grill your own entre on the huge grills ... fine with me and kinda fun ... I sat - Ed cooked!

Couldn't get to the beach fast enough! The beach is white sand and runs along the back of the hotels with a walkway running between so that you can stroll the beach on sand or pavement. The water temperature in February was warm enough to swim, and those with the desire to surf can do so beyond the area marked off for swimmers. You can also find various "water toy" vendors along the beach front where you can rent almost anything, from surf boards to water trikes to rides on catamarands. You'll also find palm trees, benches, parks, cafes, etc along the walkway.

A picture from Day 1 ...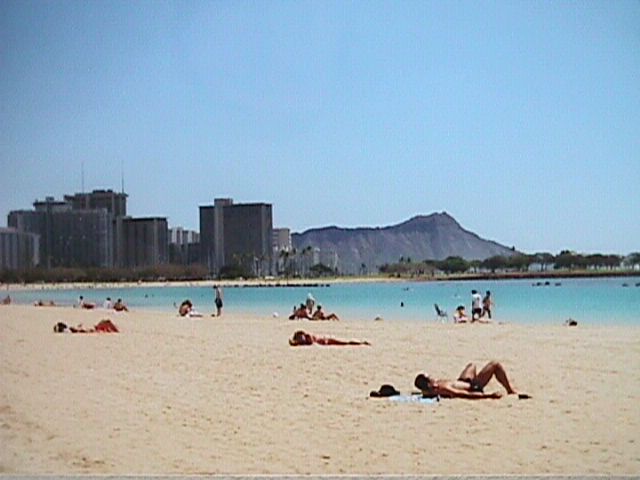 Waikiki Beach with Diamond Head in background

Return to my Hawaii Cruise/Vacation Index


American Hawaii Cruise Vacation
is created, edited & maintained by
Linda-Jeanne Dolby © 1998
This page may be freely linked to, but not copied without my consent.